Overseeing an organization's IT assets is one of the core responsibilities of the Chief Information Officer (CIO). For these professionals, it's critical to manage not only how IT assets are handled internally, but also what happens to them once they're ready to be redistributed or recycled. The most important priority in this process is safeguarding the organization's sensitive information by ensuring any threat of data leaks is mitigated.
Data breaches can devastate organizations by exposing thousands or even millions of users' private information, or sensitive data about the company itself. From patient data in healthcare to banking information in the financial sector, no industry is immune to the risk of data leaks. While hacking continues to be the most common cause of data breaches, unauthorized use and human error continue to be main causes. Should anyone in the organization mistakenly place any data-bearing device in the wrong hands—including at the end of the assets' lifespan—it introduces serious risk.
Aside from preventing potential data breaches and the aftermath that ensues, CIOs may also be tasked with overseeing compliance with data security regulations. For instance, according to the Office of the Privacy Commissioner of Canada, an organization cannot simply throw away personal information. When it comes to electronic copies of customer data, the equipment storing the information should be managed in one of three ways:
Physical destruction (such as hard drive shredding)
Erasure via overwriting, which is performed using advanced software
Degaussing, or sanitization through the use of a reverse magnetic field
Fortunately, CIOs can rest assured that their end-of-life electronics will be securely managed when they partner with Quantum. Here's a closer look at how our approach to IT asset disposition (ITAD) eliminates risk at every step.
Download a PDF version of How Quantum Works with CIOs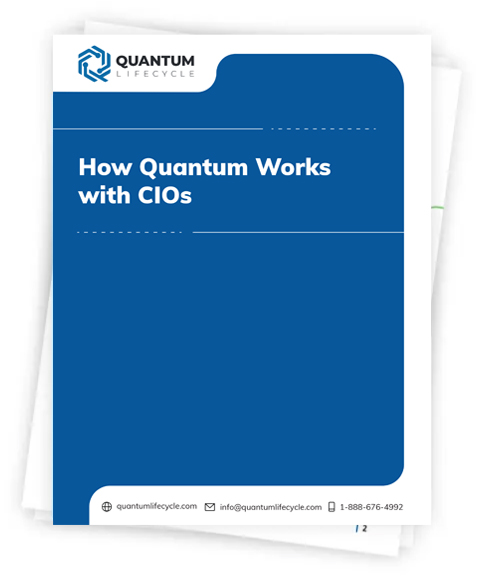 Rigorous Security Measures
Quantum has employed every security measure possible to bring you peace of mind in the ITAD process. From the moment of pickup, your assets are handled under the highest level of security. We start with background checks for all employees, including the individuals who will be at your facility and transporting your assets. In fact, our facilities now maintain Protected B clearance, meaning all employees are required to undergo credit and criminal checks, as well as digital fingerprinting. Our ITAD facilities undergo walkthroughs by government officials to ensure the fullest level of compliance.
You can also rest assured that your assets are well-protected during transportation. We place seals on our truck to prevent tampering and use satellite tracking so everything remains traceable while in transit.
Data Security Qualifications
Quantum bears the highest data security qualifications to manage your end-of-life assets securely. We maintain R2 certification, the golden standard for electronics recyclers that prioritizes data security as well as sound reuse practices and environmental compliance. In addition, our NAID AAA standard represents the highest achievable level of data destruction certification. It requires certified facilities to have restricted access in place, as well as CCTV security systems and specific processes for physical and digital data destruction. With these qualifications, CIOs can feel confident that they're choosing the best ITAD company to manage their assets and to satisfy both internal and external compliance requirements.
Asset Tracking
After assets leave a facility, CIOs must perform due diligence to ensure they're handled properly. Quantum has systems in place to help you keep track of what happens to your assets through the ITAD process. Lots or individual items are tracked at the serial number level. Thereafter, you can use our secure online portal to track your devices in near real time to see where they're being processed and which stage they're in. We offer data wiping integrated with Blancco services as well as physical hard drive shredding. Once your data is completely destroyed, you can conveniently download a Certificate of Destruction, which clearly identifies each hard drive that has been destroyed. You can then retain this documented proof of destruction for auditing purposes and general recordkeeping.
Onsite Shredding
Some organizations may have internal privacy policies that require an employee to physically witness the destruction of their hard drives. To accommodate this requirement, Quantum offers convenient onsite shredding via our mobile trucks, thereby allowing CIOs to be present for the process. Plus, you'll still reap all the benefits of having a certified team of background-checked employees performing the data destruction, along with a certificate of destruction upon completion.
No matter which option you choose, Quantum can satisfy your organization's destruction policies while supporting regulatory compliance. We'll make the ITAD process hassle-free and we'll work to meet your organization's specific needs.