Companies are often advised to only deal with reputable service providers when disposing of their unwanted IT equipment – but what does that really mean?
Reputable electronics recyclers provide high quality services that meet the needs of clients while mitigating risk around every aspect of the end-of-life or IT asset disposition (ITAD) process.
To that end, a reputable service provider is one who supports the three pillars of responsible recycling – security, environment, and health & safety – by maintaining recognized standards and certifications.
Why Quality Matters
It's not always possible for an electronics recycler to make practical use of every end-of-life item they receive.
Quality-driven service providers, however, are both certified and equipped to handle all types of materials safely and with minimal impact on the environment – including the large amounts of plastics that make up many of today's electronics.
Reputable recyclers also have the knowledge, infrastructure, and accountability necessary to meet the requirements of both types of customers in the reuse or ITAD process:
Those who want their data kept secure and their equipment destroyed or resold to a second, or even third home, and
Those who want to buy safe, functional refurbished equipment or processed materials out the back end
Complying with recognized standards and maintaining industry-specific certifications like the ones we'll examine next is the main way trustworthy recyclers ensure the quality of services like these.
Industry Standards That Guarantee Quality
Reputable recycling companies are upfront and honest with customers about their business processes and the standards that govern them.
Specifically, it's important to look for audited electronics recyclers that are in good standing within the industry as a result of consistently adhering to security, environmental, and healthy & safety programs like:
R2 (Responsible Recycling)
ISO and OHSAS
NAID-Canada (National Association for Information Destruction)
Download a PDF version of Why Our Standards Matter To You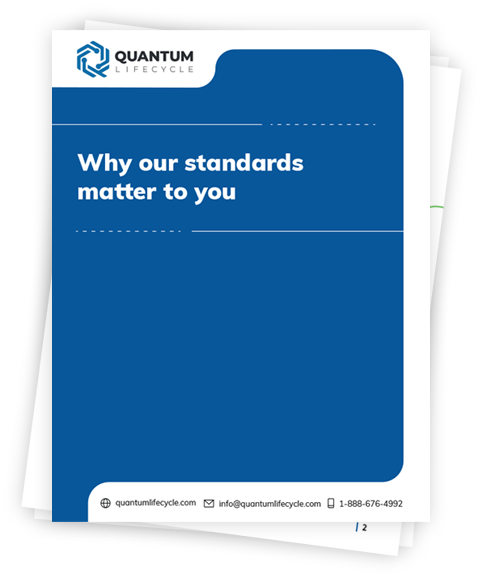 Let's examine these standards and certifications more closely to see how they ensure your company is dealing with a quality service provider.
R2 Certification
What it is: Specific to the handling of e-waste, R2 is the electronics recycling industry's leading certification. Overseen by SERI (Sustainable Electronics Recycling International), companies holding R2 certification must meet stringent requirements for the secure handling of electronic materials from an environmental, health & safety, and data perspective.
Why it matters: Because R2 certification identifies recyclers that go above and beyond, it provides peace of mind in a couple of significant ways. Not only do certified companies undergo both scheduled and unscheduled third-party audits, they're required to "follow" or track where certain focus materials (like batteries, LCD screens, CRT glass, and circuit boards) go and how they're handled – from receipt through the breakdown and reuse or disposal of their components.
ISO & OHSAS Standards
What they are: As Canada's national accreditation body, the Standards Council of Canada (SCC) oversees accepted practices and requirements laid out by key industry standards like ISO 9001 (quality management), ISO 14001 (environmental management), ISO 45001 (occupational health & safety management), and OHSAS 18001 (international standard for occupational health & safety management, currently being transitioned to ISO 45001).
Why they matter: ISO 9001 and ISO 14001 are your assurance that a company's product or service meets customer and regulatory requirements, and that their operations minimize any negative impact on the environment. ISO 45001 and OHSAS 18001, meanwhile, play a key role in assessing, predicting, and mitigating risk to employees, onsite visitors, contractors, and clients alike – whether it involves the pulling out of precious metals during the recycling process, or performing data destruction at your place of business.
NAID AAA Certification
What it is: NAID AAA is the highest compliance level offered by NAID-Canada, the national association that represents companies specializing in secure information and document destruction.
Why it matters: NAID compliance and certification are especially important from an electronics reuse and ITAD perspective because annual and spot audits ensure a higher level of security is maintained around data destruction for all equipment potentially containing personal or confidential information.
Enhancing Quality Through the Ripple Effect
Service providers that are R2-certified automatically meet a higher standard of due diligence in terms of:
Securely handling and processing recycled equipment
Keeping their employees safe around recycled materials, and
Mitigating harm to the environment at every stage of the recycling process
Reputable recyclers aren't just obliged to follow best practices in these areas, however. They're also more likely to create a quality-driven ripple effect by working with equally reliable partners downstream.
If a company like Quantum, for example, can't find an R2-certified company to forward certain components or materials to – or the R2 standard doesn't apply to a specific scope of work – they will take steps, as a minimum, to conduct a site visit or an in-depth audit of any new partner they work with.
The Risks of Not Working with a Quality Recycler
If the recycling company you work with is not R2-certified, you have no way of knowing where your unwanted materials are going or how they're being processed.
Service providers without environmental or health & safety standards in place may lack a legitimate understanding of the risks involved in processing electronics and the hazardous, flammable, and combustible materials they typically contain.
There's no shortage of brokers willing to take potentially harmful electronic materials off an uncertified recycler's hands, for example, and redirect them to countries where toxin-riddled cables and circuit boards are burned to extract bits of copper and gold.
Because following and tracking recycled materials can be costly and time-consuming, without the incentive provided by R2 certification, it can be all too easy for a disreputable recycler to put people's health, your data, and the environment at risk.
For this, and the many other reasons outlined here, industry standards and certifications are the best guarantee that the service provider you're partnering with has a solid history of compliance at every level of the electronics recycling process.