We make unwanted electronics disappear the right way
Quantum is a fully audited electronics recycling company, compliant to the most stringent standards in the world. Our processes have been developed to minimize waste and maximize value and security. We operate state-of-the-art reuse and recycling systems that safely, securely and transparently break down your old equipment into its reusable components and recycled commodities.
Electrical and electronic equipment (WEEE) is the fastest-growing type of waste in the world. Without a clear, robust solution for managing our collective piles of electronic devices, WEEE can become a dangerous burden: from stockpiles of hazardous commodities, to data security risks, and to the lost value in not handling things properly, the importance of properly handling e-waste cannot be overstated.
Fortunately, there are robust solutions for reuse and recycling of electronics and Quantum is best in class at delivering them. Explore this page and learn more about how Quantum solves the challenges presented by WEEE for all sectors – including government programs, Producer compliance schemes, municipalities, businesses and any other type of organization that generates WEEE.
We'll come right to your office
Quantum provides quick, convenient and low-cost collection of your old and unwanted IT equipment—no matter the size of your business. Better still, the more e-waste you have for reuse and recycling, the more likely your business is to qualify for free pick-up. We service every major city across Canada and can often be at your door within 48 hours. If you want it gone, give Quantum a call.
Custom solutions to support your needs
At Quantum, we have 30 years of experience developing custom solutions for all sectors. Whether it involves a multi-office move, an equipment refresh, data centre maintenance or a business wind-down, we've got you covered. Looking to set up a return to retail or mailback program? We've done that. Need solutions for your municipal waste stream or secure destruction of obsolete inventory? Municipalities and companies across Canada trust Quantum to deliver.
Our Certifications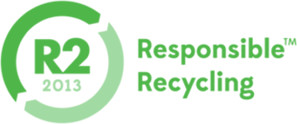 When it comes to recycling your electronic equipment the right way, the last thing you want is to work with a company that doesn't take their certifications seriously. In addition to adhering to the stringent R2:2015 certification, Quantum maintains several data security, quality and health-and safety-focused certifications, such as NAID, ISO, and OHSAS. Choosing a reuse and recycling partner that actively maintains and follows their certifications ensures you're getting the best possible service, protection and performance.
View all certifications