When they were first mass produced, manufacturers expected electronics to last roughly 40 years. By the 1990s, their lifespan was halved. Today, electronics are typically only used for 1.5 to 13 years, with most averaging 4.5 years. With accelerated operating speeds, enhanced graphics, increased storage capacities in smaller packaging, and advanced capabilities like AI computing and Internet of Things connectivity, it's no surprise that consumers and businesses are continuously drawn to the latest technology. Yet, with electronics becoming outdated so quickly, what does it mean for e-waste?
Fortunately, most devices can be repurposed or recycled by electronics recyclers. Consumers can take their unwanted electronics to drop-off receptacles, while businesses with many devices to recycle and data wiping needs can pursue e-waste management programs. Here's a closer look at how long some of the most popular devices are used for, and what you can do when you're ready for replacements.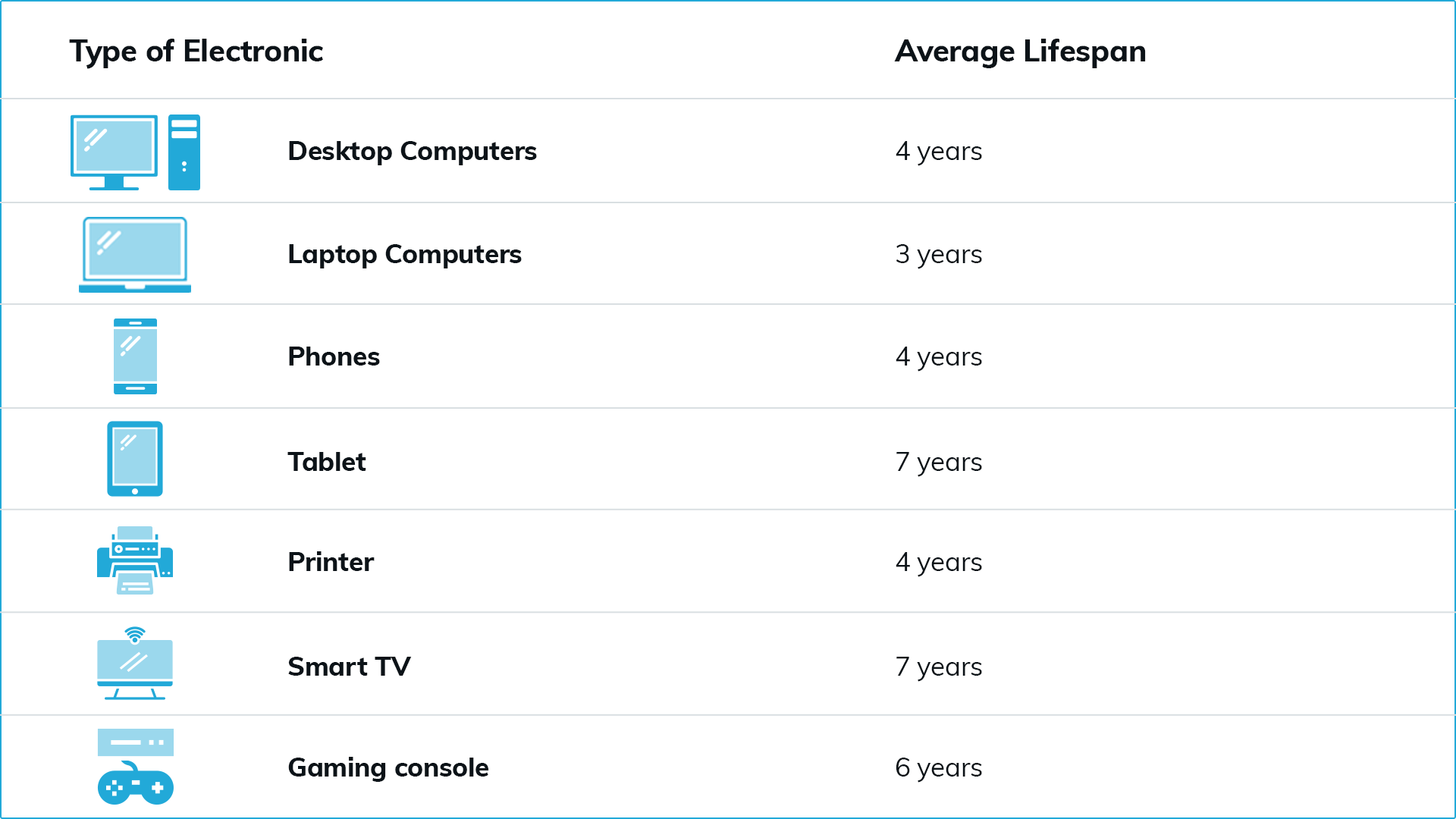 Desktop Computers
Users can expect peak performance from their desktops for three to five years. For business purposes, many IT professionals advise a three-year maximum lifespan before investments such as hardware replacements are needed.
With their short lifespan, desktop computers are a major contributor to the growing global e-waste problem. In particular, LCD desktop monitors are among the most dangerous items to wind up in landfills due to their toxic chemicals. While recycling is always an option for minimizing pollution, you might also consider donating your desktop to a charity for reuse if it's still in good working order.
Laptops
Like desktops, laptops are typically used for three to five years before they're replaced. Laptops are also similar to desktops in that they can leak hazardous substances into the environment. These devices can also be refurbished or recycled as you would with a desktop computer, or donated if they're still operational.
Laptops also contain lithium batteries. Like other rare earth minerals, the supply of lithium is dwindling, and experts expect lithium supplies to drop steadily as demand increases at least tenfold over the next decade. Much of the global lithium supply comes from China, and setting up domestic mines would be time- and resource-intensive for other nations. Lithium extraction uses a complex water-based process in which 500,000 gallons are required for each metric ton of lithium, while also harming local soils and contributing to air pollution. The anticipated demand—and shortage—of lithium is therefore a growing concern among tech companies.
Smartphones
Most smartphones are kept for three years, as their battery life tends to decline by the two- or three-year mark. Operating issues may also emerge at this time, and newer models will have fewer bugs, faster speeds, and a better overall user experience.
Like laptops, one major concern behind the rapid smartphone turnover is their lithium batteries, which not only deplete the earth's resources but also have dangerous environmental implications when they wind up in landfills. Plus, with one of the shortest lifespans of all electronics, the waste produced by these devices is significant—an estimated 1.5 billion smartphones will ship from manufacturers in 2021, or one for every five people in the world.
The abundance and availability of smartphones means that dropping unwanted devices off at a recycling facility is the best option when they're no longer needed. If there's a demand for a particular model, it can be scrubbed and refurbished. If not, it can be shredded, and the metals from the phone (such as gold and palladium found in circuit boards) can be melted and recycled through smelting.
Tablets
With an average lifespan of seven years, tablets are typically used longer than computers and smartphones. Like laptops, however, they feature LCD displays which present environmental concerns. Some retailers offer buyback programs for tablets (in addition to some laptops and computers), and they will then either recycle or refurbish the device.
Printers
Printers generally last three to five years before they slow down, print quality declines, and cartridges become difficult to find. Like other electronics, printers should never be dumped in the garbage—their ink cartridges contain toxins, and businesses that don't dispose of them properly could face fines. To that end, recycling or donation are the best options for end-of-life printers.
Smart TVs
Lasting four to ten years or 40,000 to 100,000 hours of use, smart TVs have longer lifespans than most other devices. Nonetheless, they do contain chemicals that could contribute to pollution. They're also brimming with valuable materials which should be recycled, including precious metals, copper wiring, glass, and plastic. If you're ready to upgrade your TV, consider selling it or returning it to the manufacturer to ensure it's repurposed.
Gaming Consoles
Gaming consoles are kept for six years on average. The devices contain chips, circuit boards, and fans—all of which are made of plastics that could wind up in landfills—as well as conflict minerals such as tin, tungsten, and gold. Parts are soldered onto circuit boards and are therefore notoriously difficult to recycle, though e-waste facilities can salvage at least some materials. With that said, there is ongoing demand for certain consoles, so check online to see if there's any resale value before recycling your device.
The future of electronics recycling calls for proper planning on the manufacturers' part during the design phase to plan for end-of-life management. For now, consumers and business owners can do their part in keeping landfills free of e-waste by recycling their electronics at drop-off locations or partnering with Quantum for an end-of-life IT asset disposition program.