Dealing with the ongoing waste from electrical and electronic equipment (WEEE) is a large and growing problem. Not only are exportation challenges leading e-waste to pile up in our landfills, electronic waste is often riddled with heavy metals, hard-to-handle materials and an ever-expanding data component. Fortunately, Quantum has certified electronic recycling solutions to fit every business.
We make unwanted electronics disappear the right way
As a fully audited electronics recycling company, Quantum's processes have been developed to keep 100% of your company's e-waste out of our landfills. We operate a complete manual and mechanical separation system that safely, securely and transparently breaks down your old equipment into its reusable components. Not only will we pick up your end-of-life assets, we also have the certifications and stewardship program connections to ensure they're recycled correctly.
Our Certifications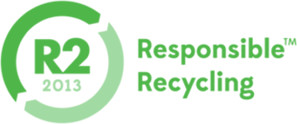 When it comes to recycling your electronic equipment the right way, the last thing you want is to work with a company that's not certified. In addition to adhering to stringent EPRA, OES, and ISO and OHSAS standards, Quantum maintains R2 certification. With strict governance over environmental practices, occupational safety and data security in recycling, R2 ensures you're working with a responsible recycling partner.
View all certifications
We'll come right to your door for your company's e-waste
Quantum provides quick, convenient, low-cost collection of your old and unwanted IT equipment – no matter the size of your business. Better still, the more e-waste you have to recycle, the more likely your business is to qualify for free pick-up. We service every major city across Canada and can often be at your door within 48 hours. If you want it gone, give Quantum a call.
We offer custom solutions for enterprise recycling projects
Is your company's electronics recycling project bigger than average? At Quantum, we're highly experienced at working with enterprise businesses, whether it involves a multi-office move, an equipment refresh, a business wind-down or a bankruptcy situation. Quantum excels at creating dedicated teams and custom solutions for large-scale, one-time recycling projects.
Quantum can recycle a wide variety of electronics