Small vaping devices have become increasingly popular in recent years, both for cannabis and other types of vape liquid. The skyrocketing demand for these devices has driven business for the cannabis and vape industries, but it's also caused an increase in electronic waste.
Disposal of vape devices introduces unique dilemmas for industry leaders. Even though end-of-life vape pens may have no value for these companies or their consumers, they shouldn't end up in a landfill. One reason is that they contain batteries, which are a fire hazard in the right conditions.
More concerningly, vaping devices could have trace amounts of cannabis in them. Although unlikely, there is a chance they could wind up in the wrong hands—children's, in particular—which could have disastrous consequences, including a tainted brand image. And, even though there are currently no legal ramifications for everyday users whose vape pens do wind up in landfills, regulatory agencies will likely start enforcing disposal standards soon.
Ultimately, ensuring proper disposal of these devices is about minimizing liability. Vape and cannabis companies have an ethical responsibility to control what happens to their products at the end of their lifespan. Fortunately, there's a simple way to prevent serious health and environmental issues: enlisting the help of a trusted third-party disposition company.
How Quantum Works with Vape Companies
As vape pens have become more compact and user-friendly, they've also become more challenging to properly recycle. Their intricate parts make the removal of their batteries tedious, but this is an area in which Quantum excels. We specialize in the disposal of vape products and similar small electronics, and we also make sure that any trace cannabis never makes its way onto the streets.
How We Dispose of Your Vape Products
Quantum properly handles vape pens and cartridges and ensures secure destruction of all components.
Here's how the process works:
1. Collection
Retailers encourage their customers to bring in their end-of-life vape products with countertop drop-off boxes. Quantum has partnered with several licensed producers in Canada to launch a pilot program to this effect.
2. Preparation
Once you've collected enough vape products for a drop-off, prepare them by removing any packaging and ensuring the vape pens and their respective pods are separately boxed/bagged. This will save us time, which will wind up saving you money in handling fees.
3. Pick Up
Quantum can pick up products to ensure secure transportation. Licensed producers with various collection sites can benefit from having all of their products ready for pickup at one location, as this will help to control transportation costs.
Once your products have been picked up, we'll take it from there. Small components are recycled, and empty pods are sent to waste-to-energy facilities. We offer a certificate of destruction for your load based on weight, providing visibility into where your products go and aiding in liability avoidance.
Download a PDF version of How Quantum Works with the Vaping Industry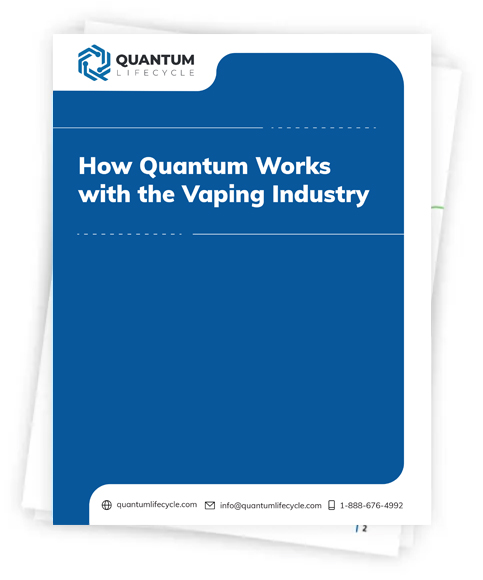 Why You Can Trust Quantum for Vape Disposal
Quantum is registered and audited to a range of standards, and can therefore verify all environmental requirements are met during the recycling and disposal of your products. We help cannabis and vape companies fulfill stewardship and sustainability goals and obligations, and with stringent security measures in place, we also ensure both physical and intellectual property is safeguarded through the entire process.
We're experienced in addressing the specific concerns around vape recycling. As pioneers behind the movement, we've partnered with Aurora Cannabis and other cannabis companies for a pilot program which collects unwanted vape products from more than 200 stores across Canada. The locations have countertop collection boxes for vape pens, batteries, and cartridges, which are then sent to Quantum for recycling.
Considerations for the Cannabis & Vape Industries
Responsible disposition of vape products is an important step for the industry, but it's just the start. There's opportunity for leaders to drive sustainability efforts in other areas, too.
Responsible Product Design
Reusable vape pens are more sustainable than single-use models, so these should become the golden standard for the industry. Additionally, manufacturers should continue to direct their resources to a more sustainable solution for vape pods. While Quantum sends empty pods to a waste-to-energy facility (which is preferable to having them accumulate in landfills), there is still no economically feasible recycling method for these products based on how they are currently designed.
Trustworthy Recycling Practices
The old adage goes, you get what you pay for. Companies should perform due diligence when exploring their disposal options. If a disposal service seems really cheap, that might be a red flag. You would hate to send your vapes for disposal only to find them online in secondary markets. Instead of seeking a free service, industry leaders should seek a moderately-priced disposal solution that fulfills stewardship and sustainability obligations. It costs money to properly dispose of these products. That's just a fact.
Partnerships Across the Supply Chain
Finally, cannabis and vape companies at all points across the supply chain should take a collaborative approach to promote recycling. To that end, Quantum is the recycler of record for a pilot program being promoted by the Cannabis Council of Canada, of which several large licensed cannabis producers are participating.
At the end of the day, the responsibility isn't on retailers alone; store owners should talk to suppliers and discuss ways they can contribute to recycling efforts. That way, every level of the supply chain is thinking ahead about how their products will be managed at the end of their lifespan.
"It feels good to be collaborating with industry on solutions that help consumers recycle their vapes," said George Smitherman, President and CEO of the Cannabis Council of Canada. "We applaud the early adopters and encourage more to follow."