Key Takeaways
Quantum provides a holistic e-waste solution that is ideal for departmentalized institutions like universities.
With options that include both on-site and off-site hard drive handling, Quantum guarantees data security at every point in the destruction process.
As a single service provider, Quantum ensures a more convenient, cost-effective approach to electronics recycling that maximizes the value of computer equipment through refurbishment and reuse.
...........
The Customer
A prominent faculty inside one of Canada's largest post-secondary institutions faced a recurring need for electronics recycling. Data security was naturally of primary concern. But the client's fractured approach to enlisting e-waste service providers also meant they lacked a consistent disposal solution.
Because the faculty had a history of engaging new and different providers whenever they needed recycling services, they frequently found themselves entrusting their e-waste to one provider and hiring a separate company to manage their data destruction. As a result, they could never be certain their disposal requirements were being securely and reliably met.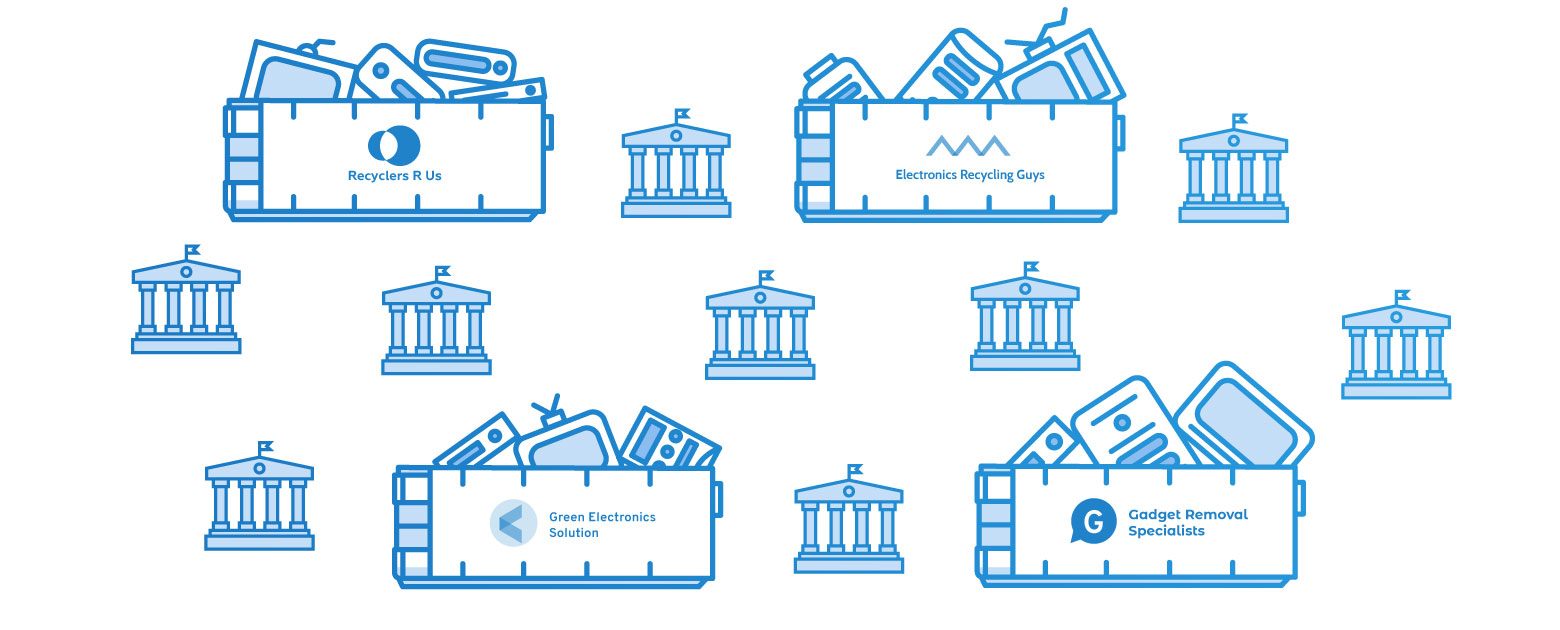 ...........
The Need for a Solution
From a cash resource perspective, university budgets are often driven by IT procurement, rather than by the disposal of outdated technology. E-waste as an afterthought is understandable in such environments because it can be challenging for large, departmentalized institutions to think holistically about their IT purchasing decisions, and thus their IT disposal solutions.
Many university departments handle their e-waste needs independently of one another, which can lead to efficiency and security inconsistencies. By adopting a shared purchasing approach in the form of vendor consolidation, however, universities and their faculties stand to reduce costs, benefit from an enhanced quality of service, and streamline their IT operations across departments.
Download a PDF version of How Quantum Works with Universities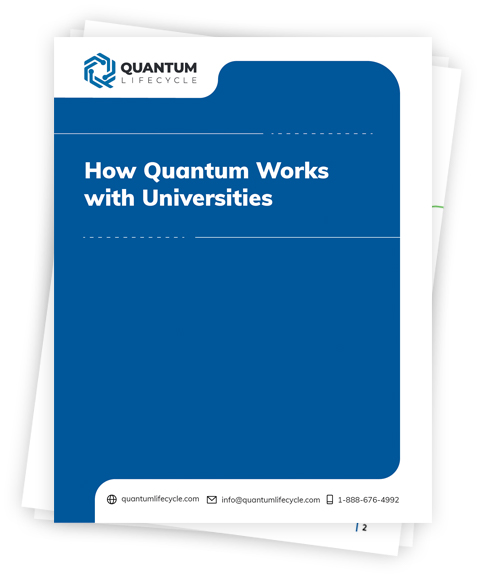 ...........
Choosing the Vendor
In choosing to work with Quantum for their electronics recycling needs, the client ultimately chose to benefit from the company's well-established compliance measures, certifications, and value proposition. The faculty felt confident that their old equipment would be handled securely, and that it would be recycled in accordance with their specific requirements. But they also knew Quantum would maximize the value of that equipment with the help of Information Technology Asset Disposition (ITAD) measures.
When post-secondary institutions dispose of computer equipment, it's rarely because it's no longer functioning. In most cases, the equipment is simply being replaced with better performing hardware. Effective end-of-life solutions like the ones offered by Quantum make it possible for universities to take equipment they've written off their books and use it to augment their bottom line through refurbishment, resale, and reuse.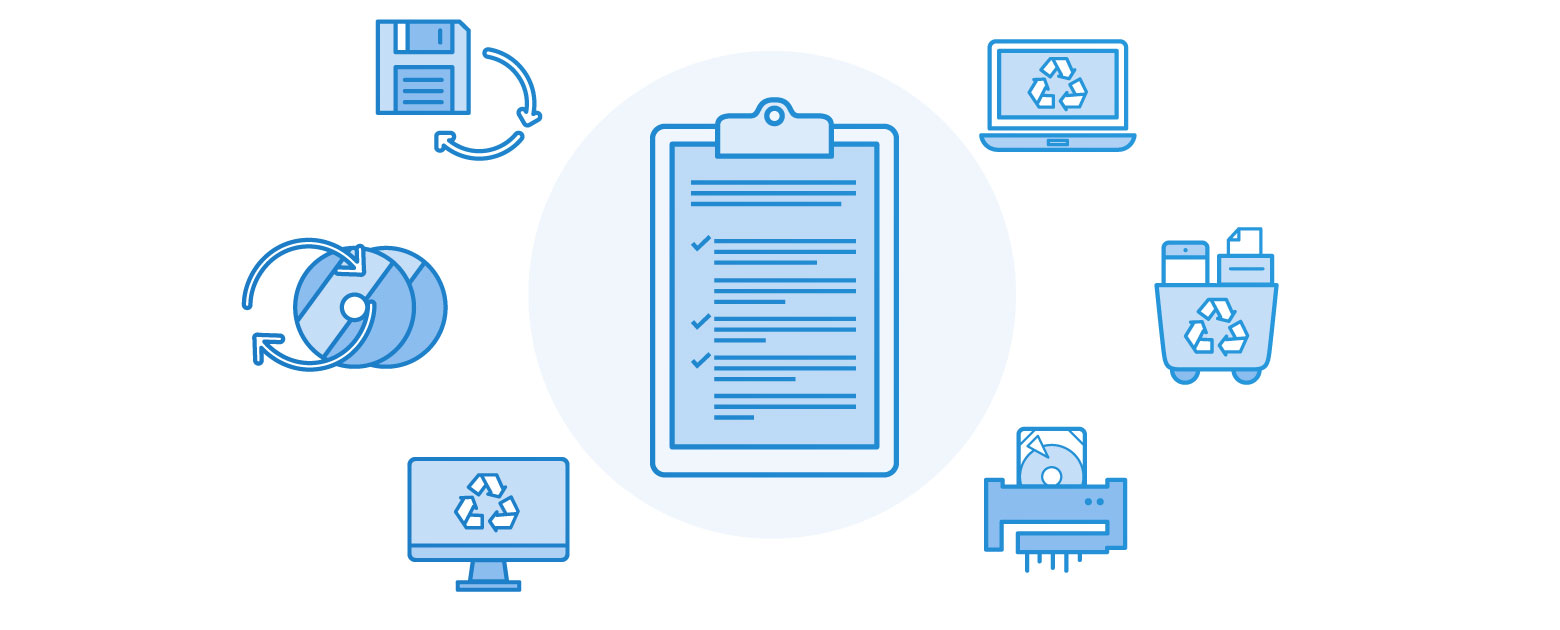 ...........
Implementation
Upon visiting the faculty site, it was immediately apparent to Quantum's recycling specialists that not only was the client's approach to e-waste disposal disjointed, there was a real opportunity to make the process easier and more secure.
Quantum accomplished this by first understanding the faculty's recycling run rates and volume, and then by designing a program around those peaks and valleys. The custom program consisted of regular, ongoing hardware waste removal, an on-demand data destruction service, an annual equipment clean-out, and the opportunity to take advantage of ITAD solutions.
...........
The Solution in Action
Quantum handles all of the IT equipment recycling and on-site data destruction for the faculty's many departments. Recycling containers are regularly deployed and collected from the various IT rooms on campus, and the client's used computer equipment is brought back to Quantum's facility for secure disposal. At the same time, and as volume warrants, the faculty has Quantum's specialized shred truck come in and perform witnessed hard drive shredding on-site.
The client has also chosen to engage in an annual purge of any accumulated e-waste that may have slipped through the cracks. Once a year, on a predetermined schedule, Quantum delivers a variety of collection containers to the campus, returning at a later date to take the discarded materials away. This provides the client's IT department with an opportunity to scour the faculty for old equipment that may have inadvertently made its way into closets or storage.
Throughout these recycling initiatives, the faculty's data security concerns are fully addressed by the fact that their own IT personnel pull the hard drives from unwanted computer equipment before it's picked up. The drives are deposited into a separate, secure container, ensuring that no data ever leaves the faculty site. When Quantum is advised that the hard drive container is full, authorized recycling staff arrive with the company's shred truck, capture the serial numbers on all the discarded hard drives, and destroy the drives and data on-site, with the client looking on.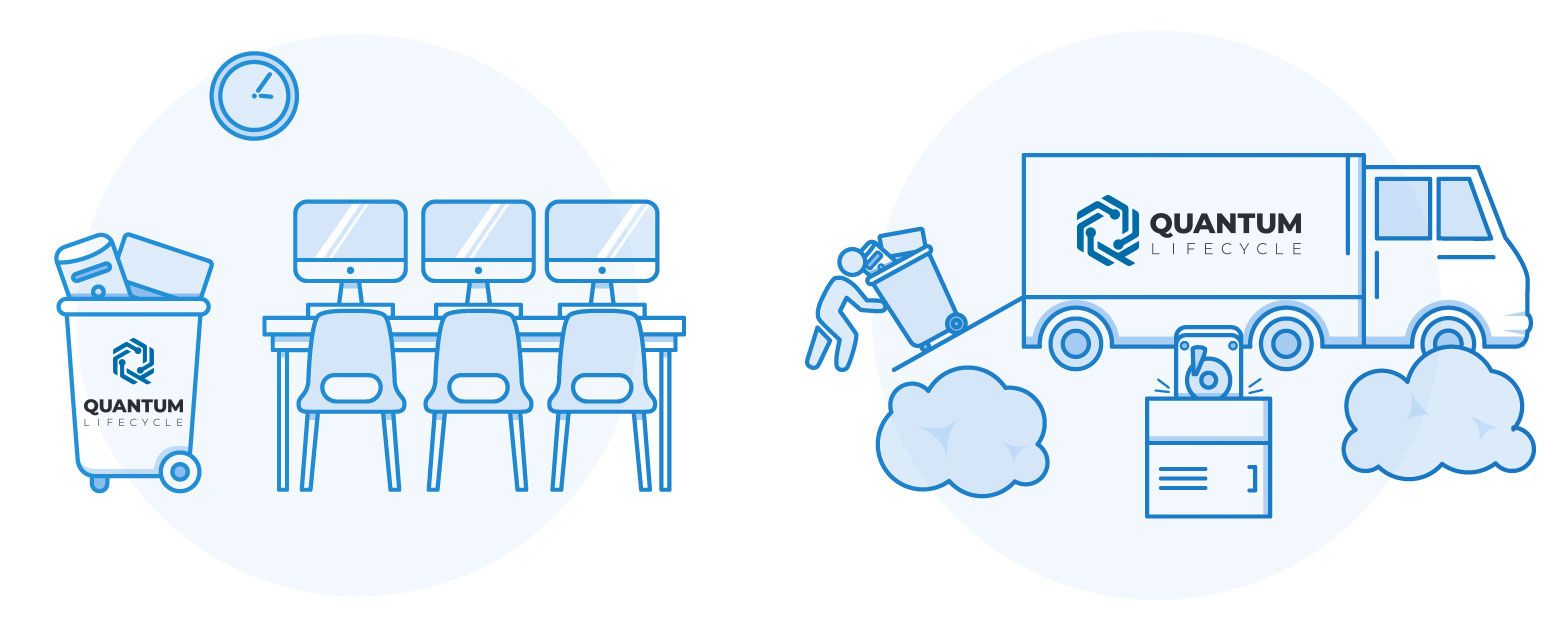 ...........
Results
According to Clayton Miller, Vice-President of Business Development for Quantum Lifecycle Partners, his company has been successfully managing the faculty's electronics recycling needs in a safe, reliable, and value-driven manner for almost four years. By choosing to work solely and consistently with Quantum, the client continues to benefit from a complete service offering that streamlines every facet of their e-waste disposal.
Because the faculty now has a single point of contact, they know exactly what to expect in terms of how their IT equipment and hard drives will be handled, and have effectively tightened the chain of custody around their computer equipment in general, and their data destruction specifically. They've also reduced their costs since working with a single provider keeps the overall expense of individual services down.
In the past year alone, Quantum has helped the client recycle well over 20,000 lbs of e-waste and destroy more than 5,000 hard drives. As word of the company's high level of accountability in delivering recycling services has spread, several of the university's other faculties have elected to come on board. In each case, Quantum provides a disposal program customized to the unique needs of the department.
...........
It takes the right internal processes and the right company to address the e-waste concerns of most universities. By working with a company like Quantum, post-secondary institutions can free up resources, generate added financial value, and feel confident that their data security concerns and logistical needs are being properly dealt with.