There is a possibility that the device on which you are reading this article will burst into flames before you finish. No, this is not the latest edition of Mission Impossible; it's actually a rather mundane piece on the serious topic of batteries safety and the challenges of properly recycling them.
Should you choose to accept, back to our story: You are likely reading this article on a laptop, cell phone or tablet that each contains one (or more) batteries.
Batteries have the potential to pose serious risks or environmental impacts if it is not handled properly. They are small, are glued in place, hard to access. They often still contain a charge that makes removing them an occupational hazard and they are in more and more items every day. Amplifying the hazard is the manufacturing trend to include multiple batteries in more and more devices.
Embedded batteries are not new to the electronics industry but they are being used more frequently as consumers demand ever-smaller devices with greater functionality. The move to a world where seemingly everything is wireless compounds the problem.
Batteries cannot be shredded and if they are, explosions and fire is the likely outcome. So, recyclers are investing more time than ever before liberating batteries from devices that have less precious metal than ever before and are lighter overall. When one is paid by the pound, this is not a good model for running a sustainable business.
If these batteries are so dangerous, what is driving manufacturers to install them in an increasing number of items?
It's not that batteries should be considered dangerous – as that's clearly not the case. How many of us have witnessed a battery fire firsthand? And they serve a very useful purpose – keeping us connected no matter where we are.
Embedding them within the device also has benefits:
Devices meet customer expectations in terms of size and performance.
Makes it difficult to replace the battery and discard it into regular household waste. A benefit to municipal waste streams globally.
Hard to replace the battery with an aftermarket battery that could pose serious health and safety risks.
Allows manufacturers to create a more aesthetic design that is sleek and appealing.
What are the challenges with embedded batteries?
Before batteries were embedded in electronic devices, they were installed in accessible pockets that allowed them to be replaced. For example, alkaline batteries commonly used in TV remotes were accessed by sliding open the back of the remote for easy access. Recyclers can access pocket batteries like these easily and quickly, and primary batteries are not inherently dangerous in the way that lithium-ion batteries are. For the most part, primary batteries pose lower risks and are not problematic for short-circuiting. Manufacturers design primary batteries with protective layers to mitigate the risks of fire and short-circuiting. These can be easily removed and consolidated prior to putting the electronic devices through a shredding line.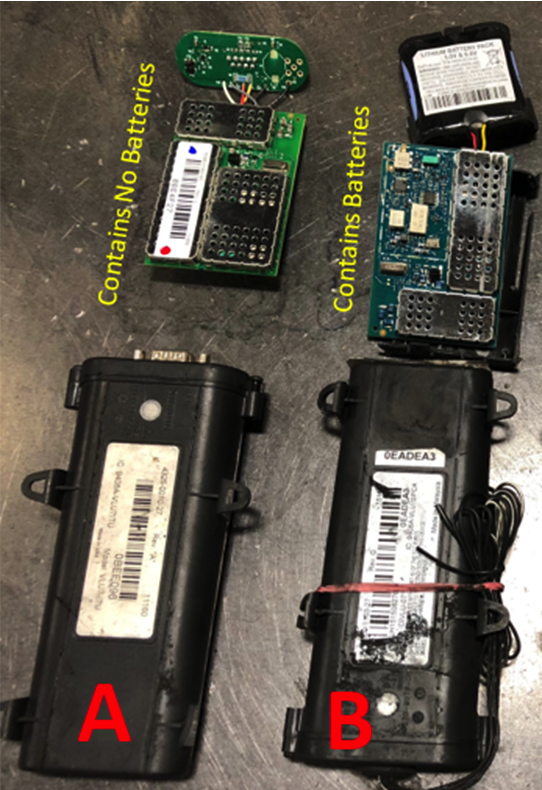 With embedded batteries, it is more of a challenge. Often items containing batteries have no indication that there is a battery inside. There are limited to no markings, and the item may look like a non-battery containing devices. Here is an example of an item coming from a customer that has been flagged as battery free. The items are virtually identical from the outside; however, one of them contains a battery, with no hazard warnings or marking on the outside of the case. This material, if put through a shredder or sent to a downstream vendor for shredding, will be handled improperly and may cause a fire. This device is actually an aftermarket automotive accessory. Embedded batteries are indeed everywhere.
Increasingly, consumers are adapting to and owning more items containing batteries. Wearable technologies are adding additional complexities to recycling and disposal companies, and the challenges of identifying and recycling these embedded devices is growing. Soon there will be batteries in clothing and almost everything else. The problem will spread beyond electronics recyclers to the waste stream in general. A battery crisis is brewing.
How Quantum Makes a Difference?
The Ontario Electronic Stewardship incentive-based electronics recycling program makes it possible for Quantum to spend the additional time and labour required to properly handle embedded batteries.
"The program allows us to spend more time doing an intensive sort of electronic devices with embedded batteries and to go through the necessary hazard removal and segregation process for those batteries," explains Mike Godfrey, Director of Operations & Compliance, Quantum Lifecycle Partners. "It's very labour intensive as we can process about 15-20 CRT's in the time it takes us to process one challenging battery embedded device."
At Quantum, electronics without batteries are sorted in one department while everything else goes to a triage area where items are inspected thoroughly, processed, and hazards are removed. The remaining items (wire, plastic, circuit boards, etc.,) go through the shredder and batteries are sorted by chemistry. A quarantine area is available if an employee is not sure about an item to make sure it does not get mixed with the e-waste stream until it can be examined.
One of the ways to mitigate against lithium-ion battery volatility is to tape the battery terminals for transport so they are not at risk of short circuiting and causing a spark or fire. This can happen if a negative terminal rubs against another negative terminal or a positive terminal rubs against another positive terminal.
After the terminals on the lithium-ion batteries are taped, they are placed in a container that is lined to prevent metal contact with terminals and placed on a truck to a downstream vendor who specializes in end-of-life recycling. It's important to note that battery recyclers generally specialize in just one type of battery, so they need to be carefully segregated.
Batteries can be a wonderful source of commodities in the recycling process. Lithium-ion batteries, for example, can contain cobalt, copper and assorted precious metals. However, if these batteries aren't handled by a professional, certified recycling company such as Quantum, we lose out on recovering the valuable commodities and we suffer if their toxic components are released into the environment.
"Understanding the compliance obligations and benefit of properly handling and recycling embedded batteries is important," says Godfrey. "It's not about the lowest or highest price; it's about making sure a recycler has the appropriate certifications and business principles to do the right thing. The best-priced recycler won't necessarily handle them responsibly. The batteries could end up somewhere inappropriate, leach into the ground or even cause a fire in landfill if you don't use a qualified, certified recycler. When dealing with batteries, cost should take a backseat to proper quality assurance, proper handling and above all else, proper disposal."
If you have questions about recycling embedded batteries, contact Quantum today.